Some nice things my girls had to say...
Victoria Sinclair graciously coaxed me from my closet to hers. I dressed alone, had an outfit or two and to now have access to such an extensive wardrobe and make-up skills .... it's amazing! Her new studio has everything my femme heart desires.

With the many photos she's taken of me posted on the internet I've made wonderful TG friends all over the world and here at home. She also has an awesome service of dressing girls for outings where I even met two of my online friends at a local club here in Portland. Thanks to Victoria I feel balanced and complete now .... she freed the most hidden intimate part of myself.

-Miranda Skye




Jackie Thomas
I have had the pleasure to visit the Portland area of several occasions over the last several years.

While there, I have had several makeovers with Victoria Sinclair, and I attended her first Garden Party as well.

The experiences that I have had with her were wonderful in every respect.

Victoria is very understanding of those like me who have a strong desire to dress feminine and look as pretty as we can. She immediately puts you at ease and makes sure that the entire experience is fun.

She is an expert in the application of makeup and helped me to improve my makeup skills as well.

I was amazed at how nice I looked after she was done.

I took advantage of the situation and enjoyed a lovely trip to the mall with another t-girl that I met at Victoria's.

She is a very skilled photographer as well, and I will always treasure the photos that she took for me.

I am happy to recommend Victoria to any t-girl who would enjoy looking her very best and having a lovely transformation in an atmosphere of fun and respect.
Joan

Hi, Iím Joan. Iíve been a client of Victoriaís for almost a year. I am at a loss for words to express to the way Victoria has helped me. Her salon contains everything needed to help a girl turn into a beautiful woman. This is just a guess but I would venture to say that she has 50 wigs for a girl to select from with numerous skirts, blouses, dresses and heels to wear. You will be amazed at the selection of clothes for girls to try on and wear.

Victoria is a very understanding and compassionate lady. She is an experienced transformation artist, and will do everything she can to help you experience an evening you will not soon forget. After you have achieved your feminine side she can take some photos for you, escort you out for an evening on the town or just sit and chat. You make the decision, after all, the evening is yours. The Embers is my favorite place to go, we go there quite often. So ladies, if you happen to see Victoria and I at The Embers feel free to stop by and say hi. I know Victoria would love to chat.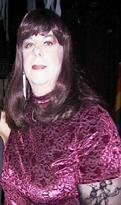 Lauralea
Hi everyone, I would love to publicly thank Victoria Sinclair for her wonderful service. Victoria is the owner of Over the Rainbow Transformations and provides an incredible service for cross dressers. My first experience with Victoria was sensational. She made me feel so comfortable that I really new what it was like to be pampered in a way that only women have known for ages. Victoria not only did my make up, my manicure and pedicure, but accompanied me out to a night club where she made sure my first night out in full dress was as fulfilling and relaxed as if it were something Iíve been doing all my life. I cannot express the appreciation and admiration I have for Victoria. I highly recommend her services for anyone looking to take that next step. Sincerely, Lauralea Hope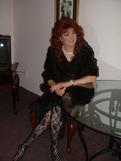 Gloria
"I first met Ms. Victoria two and a half years ago, and have since been a regular client of her transformation services. She has taught me a great deal about makeup (daytime and evening looks aren't the same?), wig styling (they can be styled??), and especially about acting more feminine (girls DON'T regularly suck their teeth????!!???). Along the way we have become friends. She has a very natural manner about her; even at our first meeting I was immediately comfortable revealing to her my very closeted crossdressing side.
Before meeting her I had gone out in public twice--and once was in Las Vegas, which probably shouldn't count--but since our meeting I have gone out many times with growing confidence. Even if you don't go out, a visit to her studio is incredibly fun, as it is fully stocked with pretty much everything you have ever dreamed of wearing. I cannot recommend her highly enough." --Gloria Marshall
Hi, I'm Madlynn. I recently had the pleasure of meeting and spending time with Victoria while visiting Portland on business. I have been a lifelong crossdresser and I find it to be difficult to meet women that not only accept this side of me but embrace it and that is exactly what Victoria offers. My experience was beyond my expectations and I was comfortable with Victoria as a person
right away.
After a quick dinner together and some conversation we set down to business. I was totally comfortable and excited to start.I found it difficult to sit still as she put my makeup on. I appreciated that Victoria explained what she was doing and why she thought it would look good for me.
The wardrobe that Victoria supplied was very thourough and I was excited for my makeup to be completed so that I could dive right in! Victoria supplied a number of different wigs, heels, skirts, etc for my enjoyment. The resulting makeover brought out the girl in me and then some! We had a lovely time laughing and trying on different looks as the night wore on. Victoria was very patient with me and made sure that there was no rush or clock watching going on. I still love viewing the pictures that came out of this makeover. Needless to say I intend to visit Victoria again soon.
Don't deny yourself the pleasure of Victoria a moment longer! I am Kimberly, a crossdresser for many years. While I have had the pleasure of a professional transformation in the past, nothing compares to the relaxing and personal connection that Victoria immediately establishes.
Victoria is very professional, has a phenomenal inventory and a skill for transition beyond compare. She takes great pleasure in doing things for you that you never imagined possible. In addition to the transformations, the other girls tell me that the evenings out are spectacular. I am looking forward to enjoying this soon.
Being a lifelong crossdresser and finding a woman like Victoria that treasures this is a dream come true. It goes without saying that I will be spending a great deal of time with her in the future.
I find it extremely difficult to express in words the monumental changes in my life since I first had the opportunity to meet with, my now very dear friend, Victoria. After a lifetime of struggling with and trying to hide those feeling of wanting to dress, of feeling somehow out of place in this world, she was able show me that itís OK for the girl in me to come out.
From the moment I walked into her studio, I was home, free to let Petra be the girl I always wished she could be. A lifetime of dreams come true, thanks to one terrific woman. Being able to try on all those clothes, getting my makeup done and just sitting and chatting, I had never felt so at peace, so comfortable or accepted. Since then Iíve had the many occasions to visit Victoria, and each time I arrive with great anticipation, and leave with a great sense of fulfillment. Iíve been able to enjoy my girl time as never before. Each session is a new adventure and, even though Iíve since been to clubs, out to eat, and even the mall, Iíll never forget that first time, that ĎHello, Petra, welcome.í
I would encourage anyone that is struggling to take those first steps, donít wait as long as I did, and go see Victoria now. Signed, Petra